Most mid-sized enterprises may have excellent but disparate IT systems and applications that work in silos. These IT systems and applications may also provide comprehensive reports at a functional level. However, Business Owners need insights that are beyond the traditional system generated reports.
To mitigate the risk of business decisions, they need cross-system insights that are updated in real-time. For this, they need to collate numerous historical reports and merge them on spreadsheets, which consume time and are prone to errors. Skills needed to compile, authenticate and process such data from multiple systems are scarce.
CryoFin™
CryoFin™ platform uses the most sought-after technology in the analytics space to connect with all disparate systems. It aggregates, validates and normalizes data and provides unified, cross-functional reports in real-time by applying business rules as defined by MIRB™ Xperts.
Quick Integration
CryoFin™ can be easily integrated with any type of Business Unit, irrespective of industry, geography, size or age
Overcome Legacy Issues
CryoFin™ can talk to any legacy system, of any vintage
No need to spend money on costly software upgrades
Savings unlock alternate investment opportunities
Maximize Benefits
CryoFin™ helps businesses derive maximum benefit from their investments in capital, personnel, infrastructure and business processes through predictive, descriptive, diagnostic and drill-down analysis.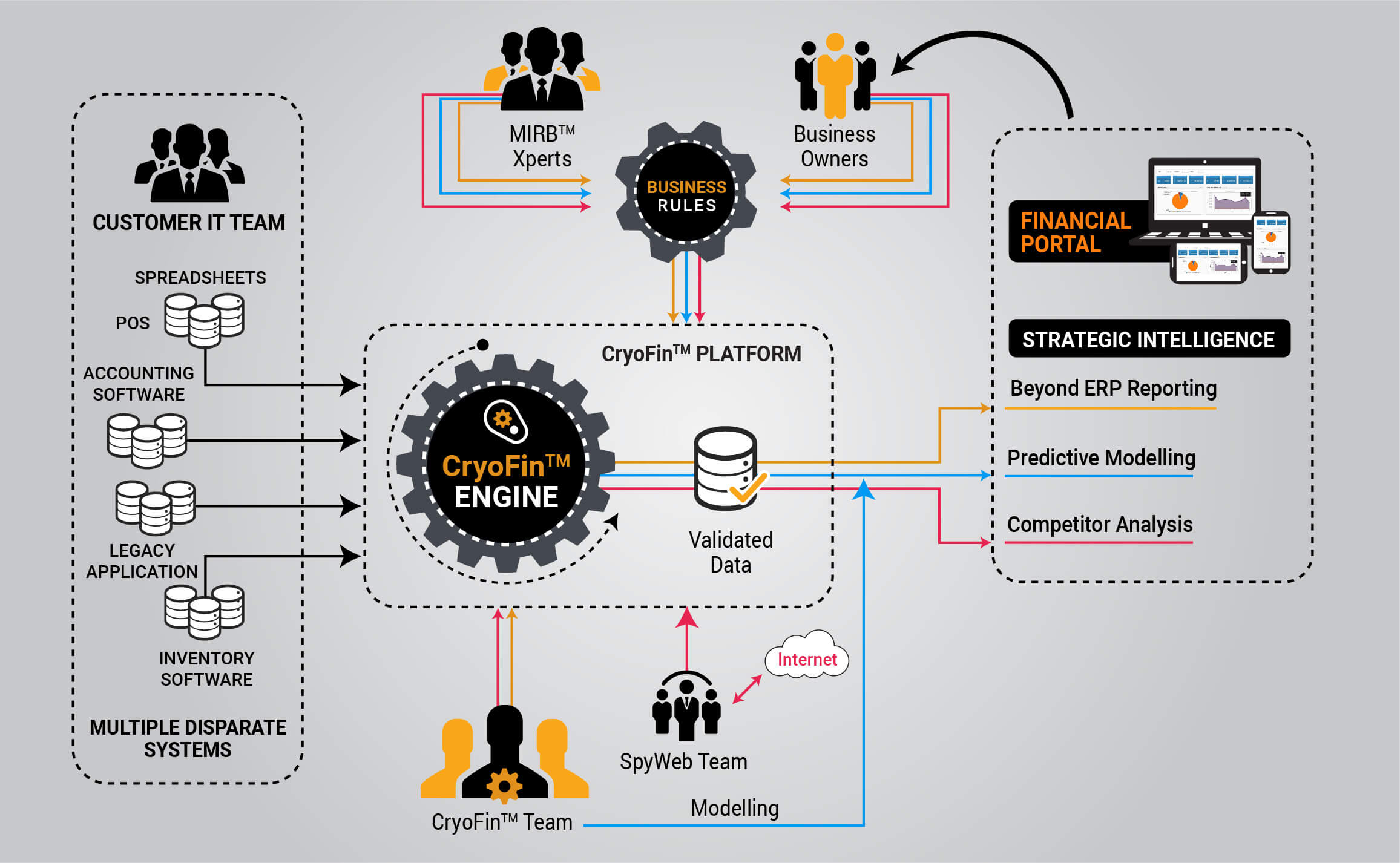 MIRB™
MIRB™ is a proven thought process that has matured over a decade. It consistently evaluates business by focusing on four aspects that are critical for success of any enterprise – Money, Infrastructure, Resources and Business.
MIRB™ Xperts, comprising CAs, CPAs and MBA (Finance) professionals – all trained and certified in MIRB™ way of thinking – work with the Business Owners to define Beyond-ERP reports that provide cross-system analytical reports and business insights. They also create sophisticated mathematical/predictive models that help Business Owners to analyze various business scenarios and assess the impact of their decisions.
SpyWeb
The SpyWeb team works with the MIRB™ Xperts to provide Competitor Analysis to Business Owners by crawling the internet, which helps them devise business strategies with deep market understanding.
Comprehensive Reports
The standard set of reports, each defined to provide insight into a specific aspect of the business, is available in the FinFacets Portal. When considered together, these cross-functional and granular reports paint a complete picture of the enterprise in vivid detail and provide insights to the Business Owners to make better, sharper and faster decisions.
Capital/ Fund Management
Working Capital Investment Analysis/ Management
Receivables Management
Payables Management
Suspected Bad Debt Reporting
Projected Cash flow & Working Capital Requirement Analysis
Capital Structure Analysis- Adequate Debt and Equity Structure
Treasury
Forex P & L
Efficient Investment of free short-term liquidity
Liquidity and Funds Management
Ensuring appropriate ROI
% of "Business on Hand" hedged for Forex Risk Management
Average Exchange Rate, Duration, Amount Hedged
Taxation
Efficient Tax Planning
Cross-Border Transactions for Global Operations
Restructuring Business Transactions
Periodic Taxation
Compliance Tracker
Avoidance of Tax Leakages and Double Taxation
Capacity Utilization
Seating Capacity Utilization
Proactive Planning for Business Growth
Best Usage of available resources
Fixed Assets Management- Location-wise, User-wise, Business Unit-wise etc.
Marginal Cost Approach- Alternative Usage of Free Capacity
Risk Management
Insurance Audit
Assets Maintenance and its Security Plan
IT Environment Security
Back up Plan and Data Security
Administration
Logistics and Supply Chain Analysis
Vendor Management
Purchase and Stores Management
Utility Management + Cost Rationalization
Inventory Management/COGS
Productivity
Revenue vs. Employee Allocation
Capacity Utilization Report
Billing Efficiency
Pyramid Structure Analysis
Average Cost Salary Report
urnaround Time Report
Employee-wise profitability / efficiency / billability
RPRJ- Right Person allocated for Right Job
HRM

Time Management & Disciplinary Parameters
Succession Planning for Key Personnel & Job Rotation
Pre Defined KPIs / KRAs and 360 Degree Evaluation
Career Road Mapping - Job Enrichment Programs
Employee Attrition Reduction and Retention Planning
Reward and Recognition Mechanism
Employee Engagement Events
Grievance Management & Analysis
Training & Development
PIP Implementation - Performance Improvement Plan (Quadrant Approach)
Attitude / Communication/Inter Personal Skills Development for Q2 & Q 4 Employees
Technical / Domain Knowledge Up gradation for Q3 & Q 4 Employees
Recruitment
Planned Recruitment - in Line with Business needs (Proactive Recruitment Approach)
RPRJ- Right Person recruited for Right Job
Performance Evaluation
Business Unit-wise Profitability
Business Forecasting
Project life cycle analysis
Project / Client / Geography / Resource-wise Profitability
Project Efficiency / Overrun
Migration / upgradation with Changing Business Scenario
Trend based Analysis & Historical Comparison
Benchmark setting and its reporting with Actuals with Qualitative Reasoning
SWOT Analysis
Simulation and Optimization
Sales
Market Positioning Analysis
Lead Generation Analysis
Sales Budget Formation
Competitive Analysis
Client Eco System Analysis
Internal and External Branding
Client Retention Analysis
Campaigns and Database Management
Billing rate / Pricing analysis
Size of Engagement and Quality of Customer Analysis
Sales - Periodic Target vs. Achievement Analysis with corrective actions
Legal & Risk Mgmt.
Contract Management - Centralized Legal Documents Vetting Process
Insurance Coverage for Business / Commercial Liability
Periodic Statutory Compliance Tracker (Calendar) - to Ensure Timely Compliance
Costing
Cost Trend Analysis
Budget Formation - Cost Centre
Cost Centre-wise Variance Report with Reasoning
Variable Cost Optimisation Analysis
Opportunity Cost Analysis
Financial Portal
The combination of CryoFin™, MIRB™ and SpyWeb results in a cutting-edge, extremely potent and effective approach for Business Owners to take decisions based on deep insights across all parameters of their business.
FinFacets provides Business Owners a dedicated Portal with Strategic Intelligence.
Actioning Team
One of the unique features of FinFacets' offerings is its Actioning Team that works with Business Owners in their pursuit of achieving the organization's goals. It comprises CryoFin Xperts, MIRB™ Xperts and SpyWeb Xperts.
The Actioning Team develops all strategic and tactical intelligence reports required by the Business Owners and gets them populated in the FinFacets Portal.